You plan, research, write, prepare. You make quality content for your audience, thinking about every detail of the presentation. Then it's time to create your slides or your graphic material… And you don't know where to find free, quality images.
Difficult, isn't it? And also, more common than you might think. Even seasoned professionals can struggle to find a good free stock image.
To make our projects more and more attractive, we, at Onigrama Presentations, relentlessly search for the best image banks – both free and paid. They are sites that bring together photos of different styles and facilitate our search for cool photos.
And of course, we want to share these tips with you. In this post, we are going to list the 10 best free image banks in the world, used by the most respected professionals in the field of visual production. Use WITHOUT moderation and make your projects, your posts and your slides amazing!
P.S.: Most sites offer Creative Commons Zero (CC0) license images. This means that you can copy, modify, distribute and use these images freely, including for commercial purposes, without asking for permission. But remember: it is always important to value the work of photographers. So, if you can, attribute the authorship of the chosen photos.
.
#1 Pexels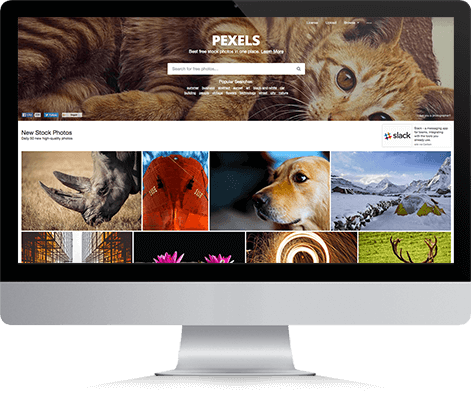 This image bank (and also videos!) is the darling of designers, advertisers, bloggers and developers. Pexels brings together professional images from photographers from around the world. In it, you will find fantastic and high-resolution photos for your project.
The good news? All photos are free for personal and commercial use, and no credit is required. Navigating the site is also very simple: just enter what you are looking for in the search bar or, still at the home page, check out the most popular photos on the site.
Also, you can filter images by orientation, size and color. As for the videos, they are classified by orientation and size, according to your demand.
#2 Visual Hunt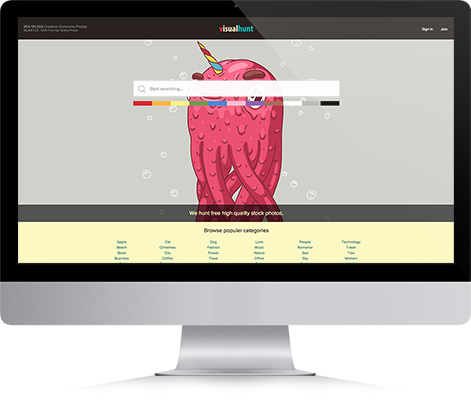 Colors, lots of colors! Visual Hunt is another amazing free stock image with millions of free photos for your project. And the main thing: most of them are in high resolution.
The creators of the project hit the nail on the head. After a lot of research, they found the best free images from many sources online and organized them all in one place.
Just like Pexels, on the homepage you will find the most popular images on the site, one more beautiful than the other. By searching for one or more words, you can sort the results by color or by license type.
Most of the photos have a CC0 license (the one that allows you to do whatever you want with the image, including using it in commercial projects, without asking for permission). To check this information, just click on the photo that catches your attention and see the type of license, just above the technical details.
#3 Refe – Real Life Photos
If you are looking for photos with natural poses, Refe is the perfect image bank!
It offers hundreds of free photos (and has paid options too!), many of them of people interacting with technology. On its homepage, Refe makes clear its objective: to help organizations and people create ideas for life in a memorable way.
To find the right image for your project, you can select only the free ones or browse through the categories in this database. Among them are "lifestyle", "nature", "travel" and other options to make your slides even more attractive.
#4 Barn Images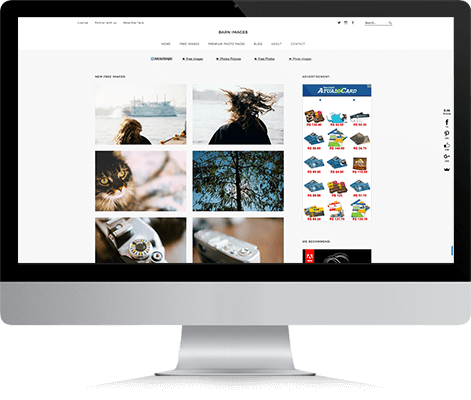 Is this just another free photography website, with the same photos you find in so many other image banks? No! The idea of ​​Barn Images is exclusivity. On this site, the photos are very different from those in the repetitive files of the most famous image banks.
Barn was created in 2015 by two European photographers looking to publish images of their own or well-known photographers they respect. A quick look at the most recent images is enough to show the differential of this free image bank. The style of the photos is completely different from what you've seen on other sites of the genre.
#5 Gratisography
A refined, laid-back and charming look. These are the characteristics of the work of Ryan McGuire, the photographer who created Gratisography. All the images available in this image bank are by McGuire, and the style is unmistakable.
The categories are diverse: they range from images of animals and nature to urban and object photographs. New high-resolution photos are added to the site daily. And, like the images of most banks mentioned in this post, you can use them however you want.
#6 Jay Mantri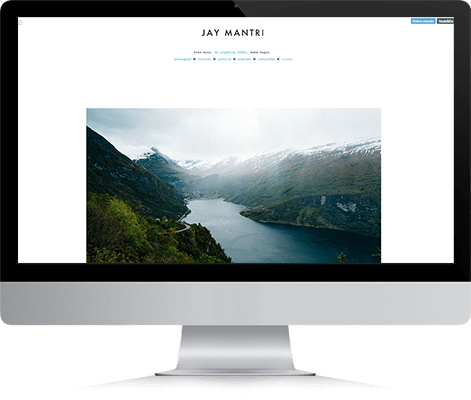 This image bank already states its purpose on the homepage: free pics. do anything (CC0). make magic. That is, free images for you to do magic in your projects.
Photos with a refined and tasteful look: these are the images on the Jay Mantri website. From color to black and white, the photographer constantly varies the style of his images, but always exploring the lines and curves of landscapes and objects.
.
#7 Magdeleine
Every day, a new free high-resolution image is added to Magdeleine. As the website says, each photograph is handpicked to be part of this image bank.
Created in 2014, Magdeleine brings together photos from several foreign photographers. Among the categories, you will find sensational images of nature, people, architecture, technology, among other themes to transform the looks of your slides.
In addition to categories, you can filter photos by license (CC0 or attribution required), color and popular tags. Amazing, isn't it? Explore this universe and have fun.
#8 Move Ast
Moveast was the space created by Portuguese designer João Pacheco to gather photos from his travels around the world. In addition to sharing his photographs with people, the purpose of the site is to encourage them to have their own experiences and travels.
In the photos, you find colors and cultures, foods and sights, landscapes and people. A wide range of options to use in your projects and – who knows? – get the courage to see the world with your own eyes.
#9 Travel Coffe Book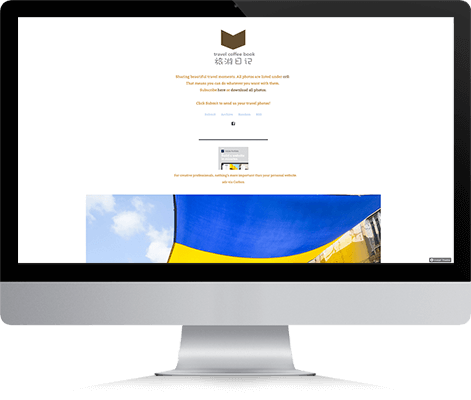 Want more world travel logs? In addition to Moveast, we have another option for you: the Travel Coffee Book.
This completely free image bank was created by a group of photographers to share travel photos. Japan, China, Austria, Netherlands, Croatia, Chile – the Travel Coffee Book has images from all continents for you to share a little bit of the world with your audience.
All photos are listed under CC0 license. This means, as we already know, that you can do whatever you want with them. And, if you want to help photographers, you can "buy a cup of coffee" and help keep the image bank active.
#10 The British Library
The British Library's Flickr account report shows more than a million illustrations, drawings and works taken from books from the 17th, 18th and 19th centuries. All these works are released under CC0 license and can be used anywhere without restrictions.
So, did you like our tips?
Now you know the best options for free stock images to turn your presentations into unforgettable experiences for your audience.
If you want professional assistance, we can help too. Check out our portfolio and contact us!